At 16 years old, Lucas Légeret already controls a 450 hp V8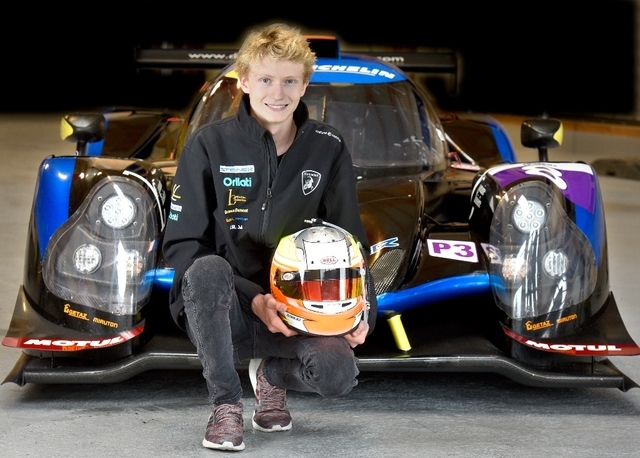 Vendredi 30 Juin 2017 11:18
At 16 years old, Lucas Légeret already controls a 450 hp V8
AUTOMOBILISM The winner of the Vuibroye in Dijon in V of V Endurance Series, is astounding by its precocity and maturity.
We're expecting to see a pilot the size of a jockey and he's a basketball player coming in front of us. Lucas Légeret is only 16 years old, but he is already 1.90 m under the toise. Not really the ideal size, when you want to make racing its job.
No matter, the student of the New School is fast paced towards his dream. And when one writes "at high speed", it is literally at 300 km / h that he does, at the wheel of his Ligier. A V8 of 5 liters of 900 kg and 450 CV (consumption: 60 liters per 100 km!) That the young man of Vuibroye masters with a surprising maturity. To believe that the leaders of the Team Duqueine who entrusted him the steering wheel of this monster, similar to those driving at the 24 Hours of Le Mans, fell on the head. Who would dare to put a 300,000 euros car in the hands of a teenager if he was not talented? No one!
In addition, Lucas is authorized to drive such a vehicle only since May 10, the date of his 16th birthday. This makes him in all and for just two months barely experience racing in the LMP3 category. You said gifted? The word is dropped. The tall blond has under the hood and his neurons rotate as fast as the wheels of his car. "We were expecting a fiery young man, but we came across a driver with a rather amazing racing intelligence," said Yann Belhomme, CEO of Team Duqueine. Its level of progression goes beyond what we expected in the best of the scenarios we were considering. To tell you, I had set a podium at the end of the season as a goal. And there, Lucas and teammate Nelson Panciatici have already won a Dijon V in the V Endurance Series. "And the boss of the team continued:" For us, Lucas is more than a surprise. With this car, he has already driven 6500 km, including 3000 in race, without putting it once in the scenery. This boy does not break. We never had to change even a rear-view mirror or a piece of carbon! "
Objective: 24 Hours
Lucas Légeret is not only reliable, it is also performing. A few days after his 16th birthday, he was already in his first race in European Le Mans Series (ELMS) in Monza. "As I was not allowed to fly before I was 16, I had a shortfall of 2 or 3 hours of runs compared to the others." With his teammates Vincent Beltoise and Henry Hassid, however, he finished eight Tenths of the pole position. Henry Hassid will unfortunately be hooked in the race by another competitor. And the car will finish 13th, after experiencing gearbox concerns.
The following? Lucas continues the experiments in record time. He rode on the Paul Ricard circuit, passing the relay in first position. He discovers Le Mans where he buckles the 13.6 km lap in 3 '55 ". "The LMP3 were allowed to open the 24 Hours. Learning this circuit in 1 hour was a real challenge, "says the young driver.
On his young charts, there is especially this first victory in Dijon, June 25. "The more I ride, the more I learn," enthuses the youngest pilot in 2017 in LMP3. I am fortunate to have extraordinary tools available. "His goal? Find yourself in LMP2 next year. A superior category in terms of power and speed. Instead of rolling between 4 and 6 hours, the LMP3 do it in 6 or 24 hours. In the longer term, Lucas would like to taste Formula E. What does his boss think? "Considering its size, I believe that it has more future in prototypes than in single-seaters," announces Yann Belhomme. My goal is to take him to the 24 Hours of Le Mans. "
The general manager of Team Duqueine praises the constancy of his protégé, his composure and his reading of racing. But what are the points on which the young Vaudois still has to work? "He can progress on his own speed," Belhomme said. For now rolling 2 hours does not pose any problem. On the other hand, if he participates in 24-hour races, he will have to take several stints. With this in mind, it is necessary to work out his fitness so that he takes muscle. "